Shoes. Scary short story
One mother bought shoes for a girl. These were very beautiful shoes, and they cost very little. However, in the store one old lady began to say that it was better not to take these shoes, but the girl's mother did not listen to her, deciding that old lady just wanted to take the shoes for her granddaughter.
- If you suddenly lose your daughter, - said the old lady, before leaving, - look for her in the cemetery.
The girl liked the shoes too. She immediately put them on, and she and her mother went for a walk in the park. At first everything was fine, but then the legs themselves led the girl somewhere. The girl began to cry and began to call her mother. Mom caught up with the girl at the very exit of the park.
The next day, when the girl went to the store for bread, the shoes took her somewhere again. The girl was very frightened, but a policeman stopped her and brought her home.
Then the girl realized that these were not ordinary shoes and decided not to wear them anymore. However, at night, when the girl was sleeping, the shoes themselves put on her feet and again led the girl somewhere.
The girl started screaming, her mother woke up, rushed into the girl's room, and there was no one there. And there are no shoes. Then mother remembered the old lady's words and ran to the cemetery.
But she didn't make it in time. When she got to the cemetery, there was a new grave in front of the entrance, and the name of the girl was written on it.
Mom ran to the police. The police immediately dug up the grave, but the girl had already died. And there were no shoes on her feet.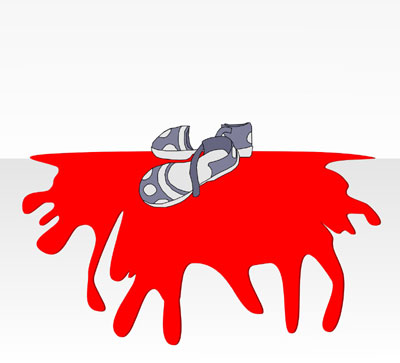 More scary stories:
• The Man with the black face. Scary short story